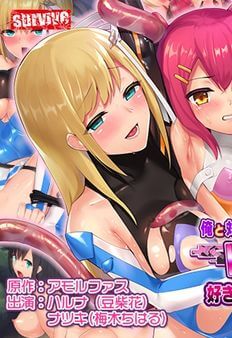 2023
Online view
Ore to Taishouteki na Jinsei o Ayumu Mijika na Futari no Yowami o Nigiri W Henshin Heroine ni Sukinadake Tanetsuke Nakadashi Suru Hibi The Motion Anime
Ore to Taishouteki na Jinsei o Ayumu Mijika na Futari no Yowami o Nigiri W Henshin Heroine ni Sukinadake Tanetsuke Nakadashi Suru Hibi The Motion Anime
Since some time, strange life forms known as demonic beasts have been spontaneously appearing in the city.
The source of their appearance is still unknown.
Apart from their nocturnal lifestyle, no other aspect of their life is known.
So far, the police have taken no action against the monsters,
Strange rumors begin to spread.
Two girls in maho-sejo costumes destroy demonic monsters.
The protagonist is a gloomy, depressed man who has few friends.
He has a younger sister and a childhood friend who contrast with him.
The younger sister hates the protagonist, who has an overbearing temper and is mostly always inadequate.
The childhood friend is a girl with impeccable character, good grades, and the chairman of the class.
The hero dreams that one day he will turn them into his sex slaves.
One day, walking in the middle of the night in the park, he heard a woman's scream.
He headed toward the voice and found a girl in a wizard costume fighting a horrible monster.
Watching this scene from the shadows, the girl's identity is finally revealed.
She turns out to be a childhood friend. He decides to blackmail her ...
Year:

2023 Year.

Time:

1ep. 45min.

Source:

Vn Game

Genre:

Motion comic, Big tits, Oral sex, Creampie

Translate:

RAW

Director:

Survive

Studio:

Survive